Travelling to Qatar for the 2022 FIFA World Cup
Date: Sunday, 19 June 2022
From 20 November until 18 December, Qatar will become the smallest ever country to host the FIFA World Cup, which in contrast, is one of the world's biggest sporting events, with an estimated 3.5 billion fans worldwide.
For information specifically about tickets and ticket sales phases for the FIFA World Cup Qatar 2022™, check the official website here.
Qatar, officially the State of Qatar, is a country in the Middle East which blends old and new, culture and heritage with modernity. The capital and crowning jewel is Doha, home to over 2.3million people, it is the nation's fastest growing city adorning futuristic architecture and a stunning skyline which overlooks the Arabian Peninsula extending onto the Persian Gulf. In terms of weather, while summers can be scorching, winters in Qatar are mild and very pleasant. The country will likely be a new destination for many of the fans travelling to support their teams during the World Cup and there will be cultural, legal and travel considerations for many fans and first timers visiting Qatar. Apart from passengers, airline and private aircraft operators also need to be aware of numerous regulations, and coordination parameters. You can read about the flight operations and regulations under the resources for operators section later in the article.
First to note is that with the increased demand on flights and hotels, travellers would be well advised book everything early to avoid any disappointment. Arranging accommodation will be an important part of your trip to Qatar, fortunately there are a broad range of options available from hotels and apartments to villas, desert camping and cruise ship rooms which can be found through the Qatar2022.qa official page.
A number Gulf Cooperation Country (GCC) airlines including Qatar Airways, Kuwait Airways, Saudia, Oman Air and flydubai signed an MoU, collaborating to offer shuttle flight services for FIFA World Cup 2022 ticket holders from their respective countries. The arrangement will dramatically increase the number of available seats for fans, operating in a manner more akin to domestic flights than international and will allow fans to fly to Qatar, watch a match, and leave on the same day.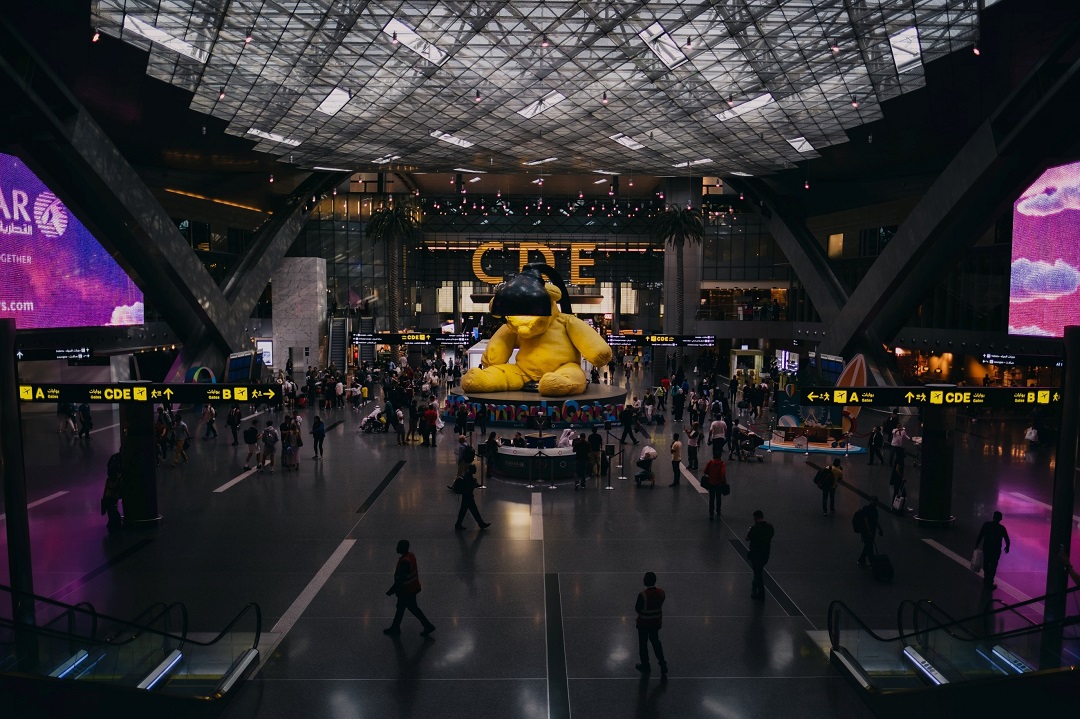 Airports
Qatar's main entry point is Hamad International Airport (OTHH/DOH), which replaced nearby Doha International Airport (OTBD/DIA) as Qatar's primary airport, with DIA being assigned to handle General Aviation (GA) traffic such as governmental and private flights. However, during the FIFA World Cup 2022, DIA will enhance its role and accept additional traffic to cope with the influx of visitors. Both airports offer executive aviation terminals which are known as Fixed Base Operators (FBO) for handling private jet traffic.
Hay'ya Card
World Cup ticket holders are reminded that all local and international fans will need to apply for a Hay'ya Card (and confirm their accommodation plans) to enter the State of Qatar and access the stadiums. The Hay'ya Card is a SMART technology ID card operated by the government of the State of Qatar and linked to the ticket. It will allow holders access to the stadiums, free public transport on match days and will also serve as a pre-approved entry visa into the country when presented with a valid passport. Furthermore, should you require a multiple-entry visa during the tournament, the Hay'ya Card can do that too.
Private Flights
Whether you are traveling on your own or as part of a group, it could be a smart move to consider booking a private charter flight. These can be cost-effective and highly convenient because they enable travellers to travel at a time that suits them without the restrictions of a scheduled flight. This option also allows you to skip the usual lengthy procedures and queues of the commercial terminals. Private charters make it even easier to fly in, watch a match and fly out again the same day, without the need to book accommodation in Doha, if so desired.
If you are looking to fly private, contact us charter@hadid.aero or call us on +971 (0) 4 205 3000.
We can arrange your trip from start to finish, hassle free. Our passenger services include concierge, in-flight catering, hotel accommodation services, helicopter or limousine services to and from the airport and personal security, among other services.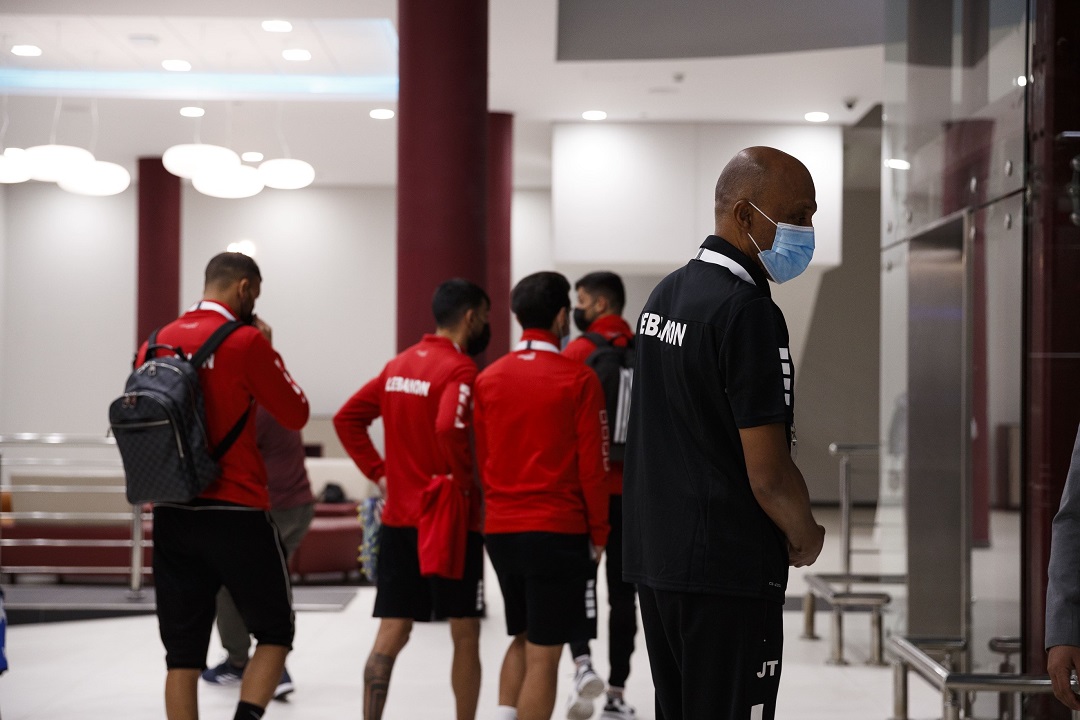 COVID-19 Vaccination Requirements
Currently, all international travellers must present a negative PCR COVID-19 result within 48 hours before travel.
Unvaccinated travellers will be required to quarantine in a designated hotel for 5 days. Travellers who were vaccinated outside Qatar are required to submit their original vaccine certificates alongside any other supporting documents proving they have obtained the vaccine, in Arabic or English, including the following information:
The name of the traveller must be identical to that on the passport
Doses and dates of vaccination
Type/name of the vaccine
The serial number of the vaccine batch and QR Code, if available
Prior to arrival in Qatar, travellers must be vaccinated with one of the approved vaccines on the list below:
Pfizer / BioNTech (Comirnaty)
Moderna (SpikeVax)
AstraZeneca (Covishield / Oxford / Vaxzevria)
Jansen / Johnson & Johnson (only one dose)​
Immunity validity period:
Pfizer, Moderna, Astra Zenica are valid for 9 months from 14 days after 2nd dose
Pfizer, Moderna, Astra Zenica are valid for 12 months after the booster dose
Jansen / Johnson & Johnson are valid for 9 months from 14 days​ after the 1st dose
Jansen / Johnson & Johnson are valid for 12 months from 7 days​ after the booster dose.
Conditionally approved vaccines:
Sinopharm
Sinovac
Sputnik V
Covaxin
A Serology Antibody test with a positive result is mandatory before travelling to Qatar for people with 2 doses of conditionally approved vaccines and is valid for 30 days from testing. Travellers that have received a dose of either Pfizer, Moderna or Astra Zeneca following their full vaccination of a conditionally recognised vaccine will be considered fully immune.
Those with a past medically confirmed COVID-19 infection are considered to have immune status valid for twelve 12 months from the date of the infection. There should be an official and verifiable laboratory test result as evidence of the past infection.
Please note, it is your responsibility to keep up to date with the current COVID-19 announcements. Check the Ministry of Public Health page here.
Match Schedule and Stadiums
Check out the FIFA infographic below to see group/team matchups, stadiums and dates: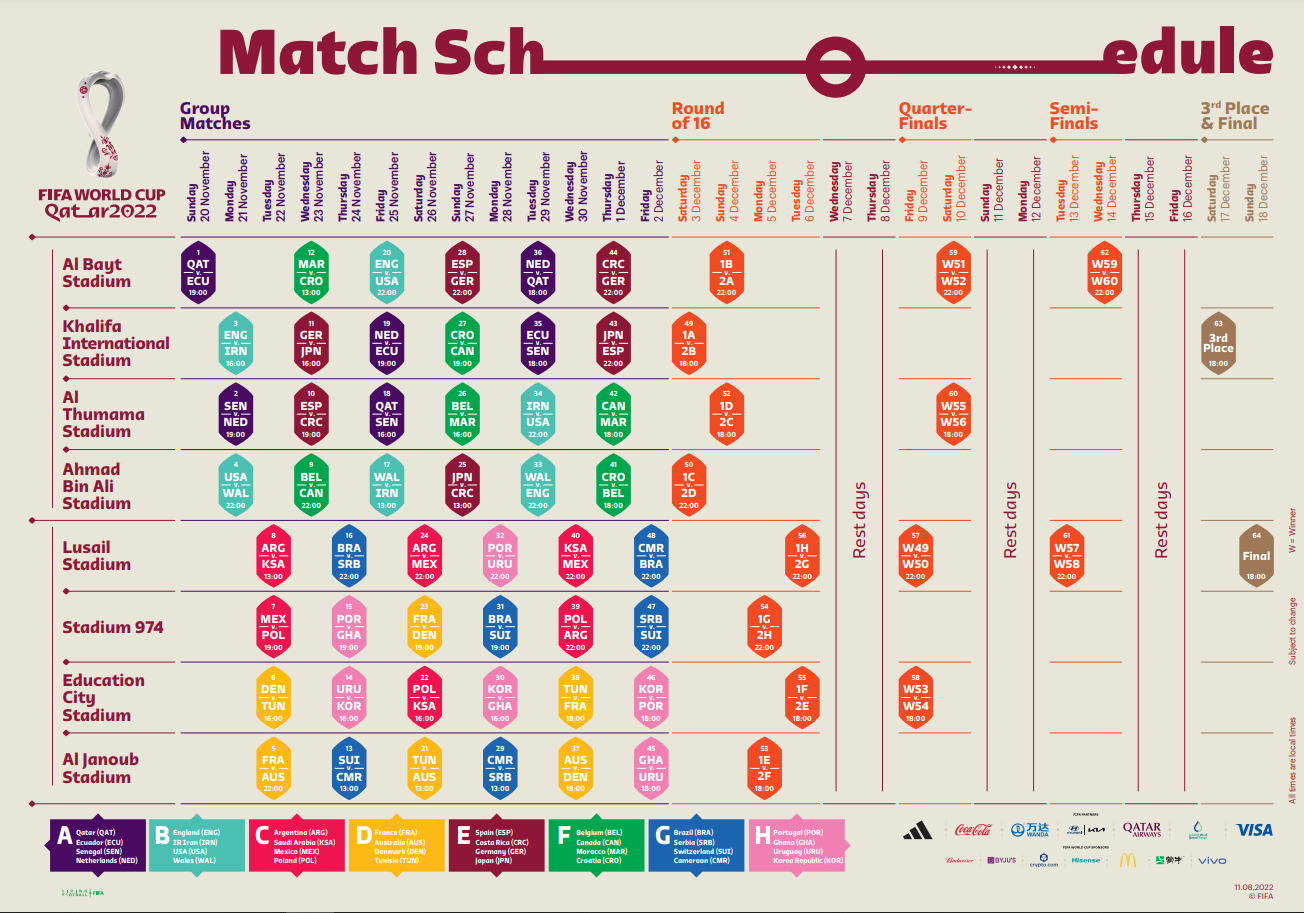 Money and Other Matters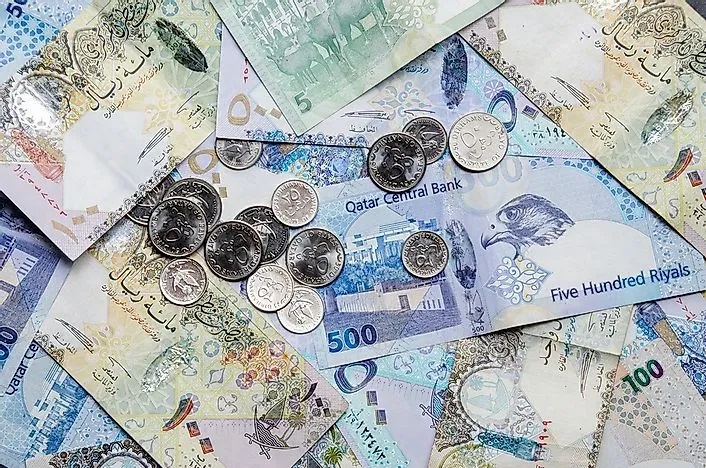 The official Qatari currency is the Qatari Riyal (QAR or ر.ق). One Riyal is divided into 100 Dirhams. The exchange rate, at time of writing, is around 3.64 QAR to the US dollar, 3.84 QAR to the Euro, and about 4.50 QAR to 1 Pound Sterling.
Only change money at banks, hotels and recognised exchange kiosks. You may need to show your passport and visa to change money.
Tap water supply in Qatar safe to drink. However, be mindful of the maintenance of the water storage tanks at your accommodation as this is where contamination can potentially occur. Water bottles are cheap and widely available.
Electric plugs and sockets in Qatar are flat "type G" (Common in UK) and round "type D" (Common in India). The standard voltage is 240 V. You can use your electric appliances in Qatar, if the standard voltage in your country is in between 220 - 240 V.
If you are planning to travel elsewhere in the region during the tournament, you should check the entry requirements for every country you plan to visit or transit through.
In the event of an emergency call 999.
Local laws and customs
Qatar is an Islamic country governed by monarchy and adheres to Shari'a Law. Its laws and customs differ significantly from those in European countries, for example. You should respect local traditions, customs, laws and religions at all times and be aware of your actions to ensure that they do not offend, especially if you intend to visit religious sites. There may be serious penalties for actions which would be considered only a misdemeanour in any European state. Private life in Qatar is largely respected but any intimacy between persons in public can lead to offence, regardless of gender, sexual orientation or intent. Qatar is consistently ranked among the safest countries in the world with very low crime rates.
Photography
Be aware of cultural sensitivities when filming or photographing people and religious, military or construction sites or aircraft. Some visitors attempting to film or photograph in sensitive areas have been arrested. If in doubt, seek permission.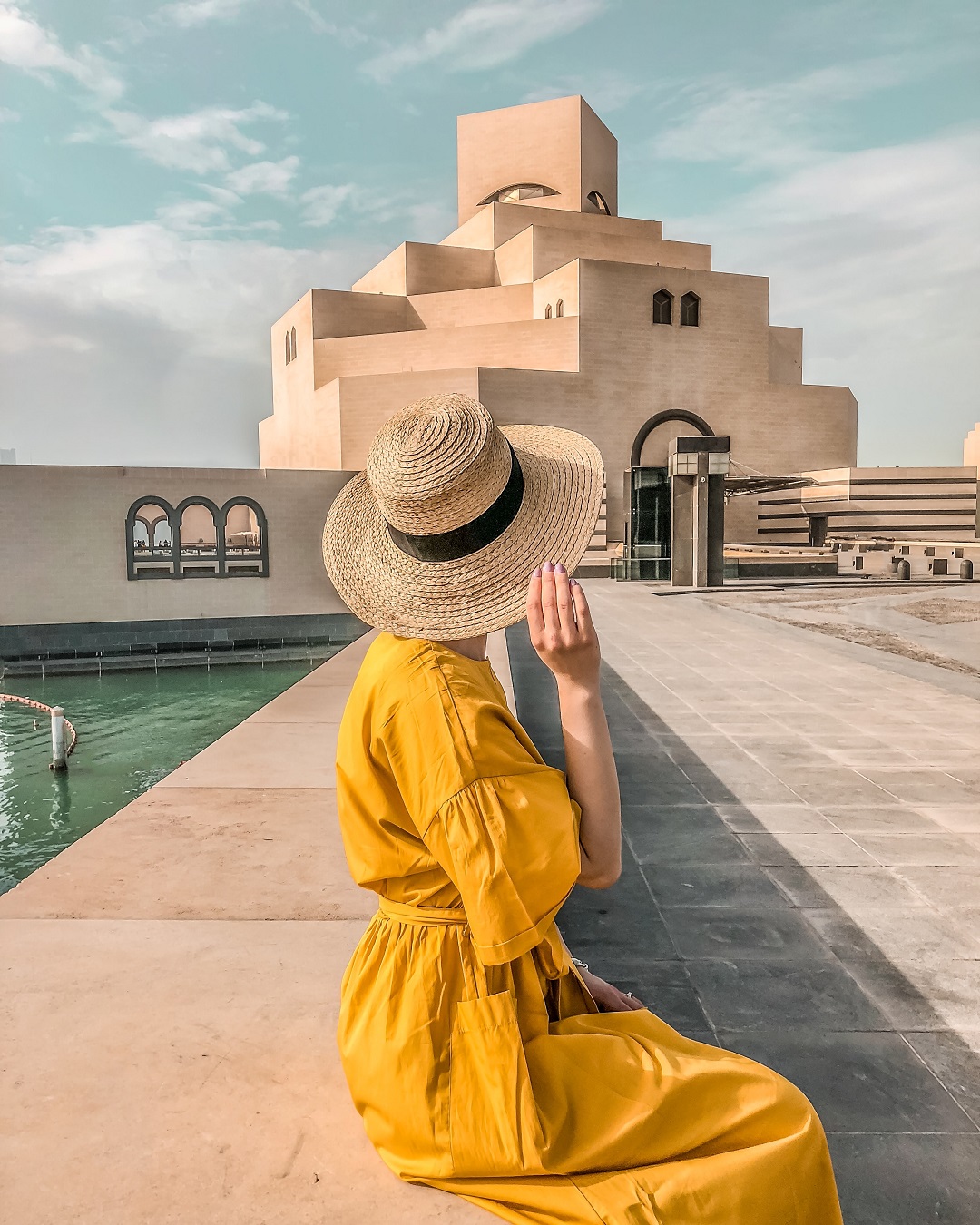 Dress code
You should dress modestly when in public, including while driving. Whilst Qatari women wear the abaya, there are no formal restrictions. However, dressing modestly is a must. Women should cover their shoulders and avoid wearing short skirts. Both men and women are advised not to wear shorts or sleeveless tops, when going to government buildings, health care facilities or malls.
Alcohol and drugs
Qatar's authorities are still finalising the policies relating to the sale and consumption of alcohol during the World Cup. Alcohol is currently only available to visitors at licenced hotel restaurants and bars. The legal drinking age in Qatar is 21. It is an offence to drink alcohol or be drunk in a public place. The importation of alcohol into the State of Qatar is illegal and fans will not be able to purchase alcohol from duty free in the airports.
There is zero tolerance for drugs-related offences and visitors can expect heavy penalties and lengthy custodial sentences for possession of even residual amounts of drugs.
Driving
Although a new metro system and bus network are operating in Doha, Qatar remains very reliant on cars. There are approximately 4 cars for every 10 people in the country - despite the thousands of migrant workers who don't own one.
Cars are left-hand drive, usually automatic and motorists drive on the right side of the road (much like the US). Roads are generally in very good condition, even outside the city. However, traffic can be heavy. Be prepared to negotiate traffic jams during rush hours and throughout the World Cup.
All eight stadiums for the Qatar World Cup are within close proximity to each other. Combined with the improved public transport infrastructure, fans should easily be able to attend more than one match in a day. Driving likely won't be necessary, unless you are looking to explore further afield. 
Nothing to Declare
Qatar border officials do not restrict personal electronic devices but can demand to inspect any electronic device (including any installed software) on departure for censorship or confiscation. Importing drugs, alcohol, pornography, pork products and religious books and material into Qatar is illegal. Personal items and gifts whose value exceed QAR 3,000 (USD 825) must be declared.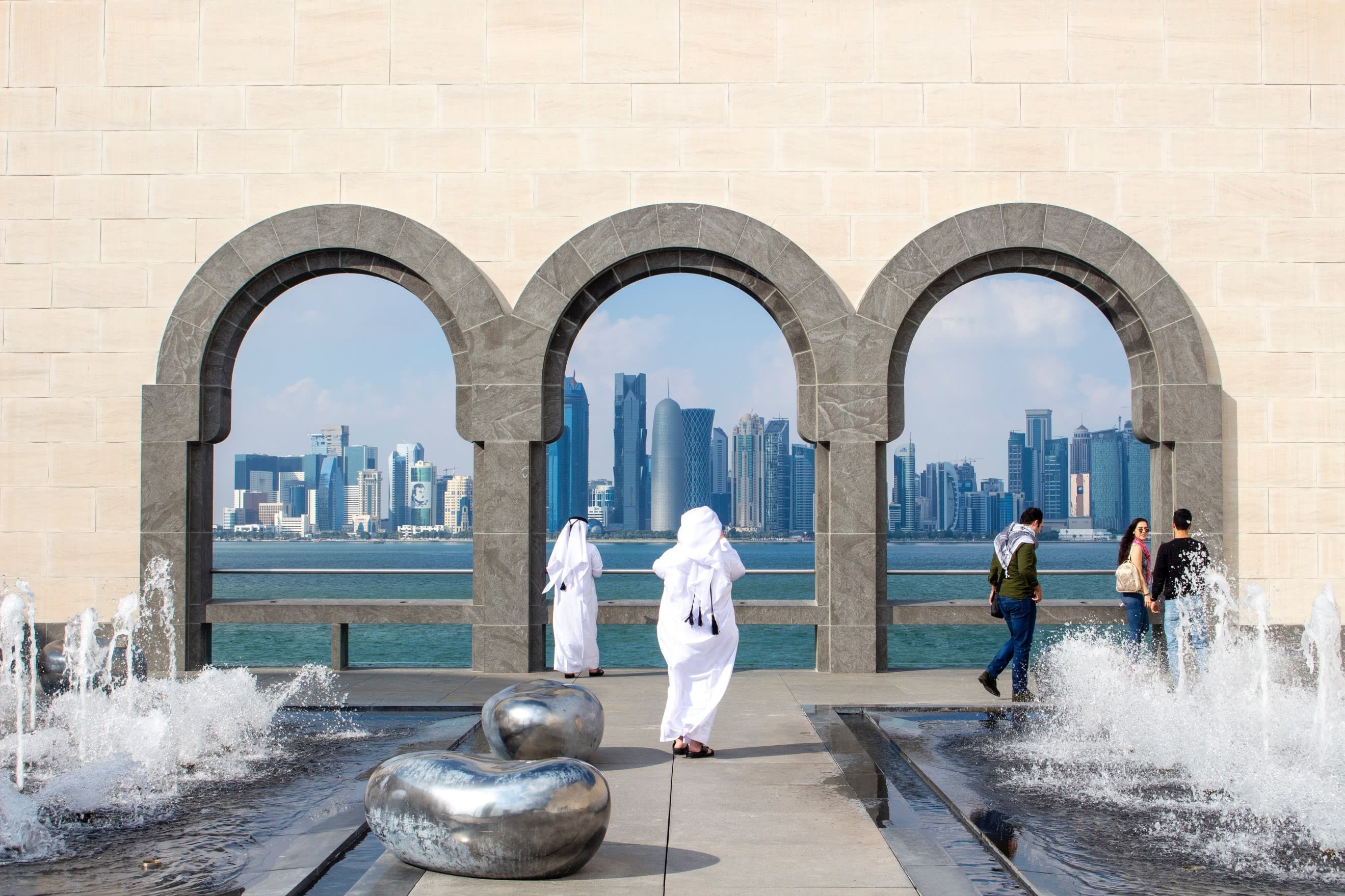 Language Barriers?
English is widely spoken in Qatar and over 95% of the population of Doha speak English. Signage will almost always be in both Arabic and English, so English speakers will rarely have any issues. However, spending a few minutes learning some basic words and commonly used informal phrases can be fun and may come in handy.
Useful Arabic Words/Phrases
| | |
| --- | --- |
| One  | "wahid" |
| Two  | "ithnaan" |
| Three  | "thalaatha" |
| Hello  | "salam" |
| Yes  | "na'am" |
| No  | "laa" |
| Please  | "min fadlik" |
| Thank you  | "shukran" |
| Sorry  | "aasif" |
| Excuse me  | "'afwan" |
| Bye  | "ma'a salama" |
| No problem  | "mafi mushkala" |
| Hopefully (God willing)  | "inshallah" |
| What's your name?  | "ma ismoka" |
| My name is…  | "isme ____" |
| Please help me  | "min fadlik sa'adni" |
| Plane  | "ta'aera" |
| Car  | "sayara" |
| Bus  | "bus" |
| Police  | "shurta" |
| I don't speak Arabic  | "mafi arabi" |
| Do you speak English?  | "hal tatakalam injilizi" |
For Those Who Wish to Visit Qatar in 2022 - But Not for the World Cup
With its stunning skylines, glass towers which seamingly defy gravity and its island desert backdrop, Qatar's capital city of Doha makes for an unforgettable first impression. Almost everything in sight appeared after 1971, when the former pearl-fishing village became the capital. Despite the "newness" of Doha, there is plenty of heritage and cultural interest to immerse yourself in. Don't forget to visit the National Museum of Qatar and the Museum of Islamic Art which are considered architectural masterpieces. Football might be the favorite local pastime - but it is closely followed by shopping. Doha is home to some impressive and gigantic malls occupied by luxury-seekers but don't miss the quaint stalls at the Souq Waqif. Outside city limits, Doha dissolves into desert, popular for sandboarding, safaris, camping and other activities. On a peninsula extending into the Persian Gulf, Qatar is ringed by beautiful snowy white beaches, many of which are an easy drive from Doha.
The World Cup is only one month but be taking place over particularly popular travel dates for Qatar and for the surrounding GCC countries. It would likely be wise to visit after the World Cup is over, from the end of December until April whilst the weather is still glorious. By the end of April however, Qatar begins to get hot and by June it is unbearably hot and humid outdoors for most people.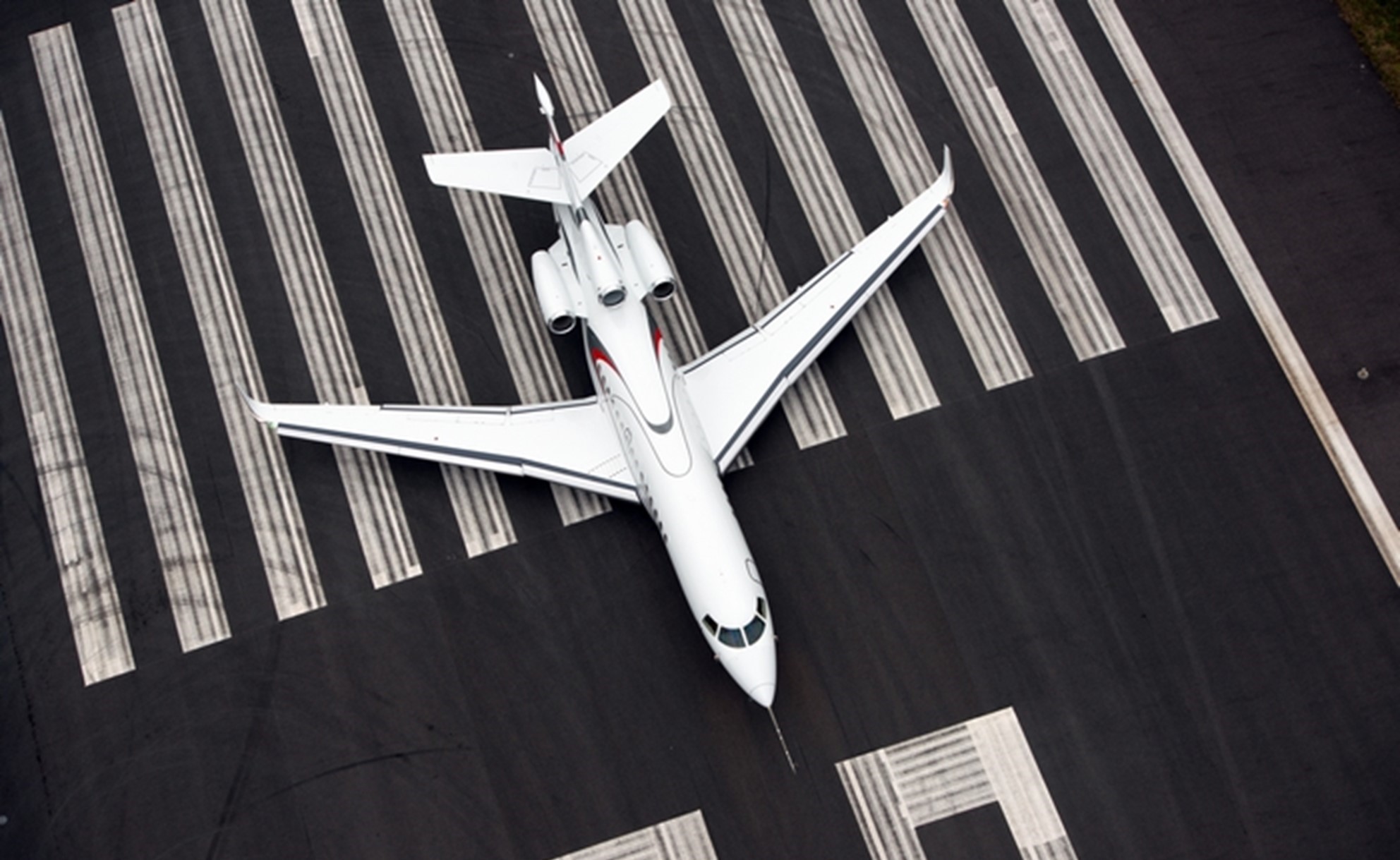 Resources for Operators
Make sure to secure all permits, visas, HOTAC and on ground transportation arrangements as soon as possible. Contact ops@hadid.aero 24/7 for assistance.  
The two main airports at Doha are Hamad International Airport (OTHH/DOH) and nearby Doha International Airport (OTBD/DIA). It is estimated that DOH will be processing 8,000-10,000 passengers an hour during the World Cup period, while DIA airport will serve 5,000-6,000 spectators per hour.
Match Day Shuttle flights will be available from Dubai, Jeddah, Kuwait City, Muscat, and Riyadh.
National Civil Aviation Authority:
Qatar Civil Aviation Authority (QCAA)
Slot considerations
Slot approvals for the World Cup period will be processed only starting August 15th.
The coordination level of Hamad International Airport and Doha International Airport has been amended to level-3 slot coordinated airports during the "organisational period" of the World Cup – from October 30 to December 25, 2022.
Slot requests for non-governmental flights will be handled on a first come, first served basis. This does not include Participating Member Association flights such as those for National Football teams which will automatically be given priority.
Whilst all scheduled services will be accommodated at DOH, charter services will be accommodated at both airports, subject to slot availability. It should be noted that GA/BA flights will still be primarily accommodated at DIA.
Slot requests at DOH & DIA for operations between 30 Oct–25 Dec 2022 require a slot booking deposit of USD 5,000 per flight rotation. The deposit will be deducted from the final airport charges invoice or will be released to the operator in case of flight cancelation in accordance with the current rules.
Slots are allocated by the CAA slot coordinator and all requests must be submitted in a turnaround format to ensure that operators don't exceed set maximum allotted times. Ad-hoc, charter and GA/BA slot requests must include a unique per flight Ground Handling Confirmation Number or GHCN obtained via a Ground Handling Agent.
Failure to operate within the allocated slot time of arrival/departure will result in a penalty.
Slot Penalties
Slot cancellations or revisions will be accepted up to 24 hours prior to the scheduled arrival time in Doha (in UTC time). Those received on the day of operation will be rejected.
Cancellations or no shows on the day of operation will be subject to the following penalties:
100 USD per seat per flight leg for charter passenger flights & loss of the Slot booking fee
20,000 USD per flight for GA/BA flights and loss of the Slot booking fee
30,000 USD per flight for charter cargo flights and loss of the Slot booking fee.
Excepting governmental, emergency and humanitarian flights, slot violations will be subject to the following penalties:
5,000 USD for arrivals of +/-20 minutes deviation from the approved slot, for flights with a flight time of 5 hours or less
5,000 USD for arrivals of +/-35 minutes deviation from the approved slot, for flights with a flight time of 5 hours 1 minute or more
5,000 USD per flight leg for flights operating with an aircraft type of a higher ICAO category than the one approved.
Penalty Exclusions
There some flight types and extenuating circumstances which are excluded from penalty implementation, these include:
Flights with established historic rights and new schedule requests for the whole FIFA World Cup 2022 Scheduling Season.
Slot misuse or slot cancellation on the day of operation for reasons outside of the airline's control, justified subject to one of the following delay codes in accordance with the IATA Aircraft Handling Manual (AHM730):
| | |
| --- | --- |
| •  Damage to aircraft during flight/ground operations | IRR 51, 52 |
| •  Adverse Weather | IRR 71, 72, 73, 75, 76, 77 |
| •  Air Traffic Flow Management | IRR 81, 82, 83, 84, 88, 89, 87 |
| •  Industrial action outside of the airline | IRR 98 |
| •  Mandatory Security | IRR 85, 86 |
Aircraft parking
Aircraft parking in Doha is usually approved with the slot application. However, there is uncertainty as to whether there will be adequate parking available for all operating aircraft during the FIFA WC. Furthermore, there is no clear information yet from authorities. We expect additional information to be made available by August.
Some operators may consider offering only drop-off and pick-up in Doha then flying to alternate locations for parking such as Dubai's Al Maktoum International Airport (DWC/OMDW) or Abu Dhabi's Al Bateen Executive Airport (AZI/OMAD) which is exclusive to GA flights.
Crew Accommodation
The Qatar Accommodation Agency 2022 (QAA) is the official accommodation service provider for fans. However, there are limited options available for flight crews in Qatar during the World Cup period and many operators will be considering accommodation arrangements outside of Qatar, such as Dubai and Abu Dhabi, Kuwait City and Riyadh where there will be greater availability and likely at better rates.
Monitor NOTAMs
It's important to monitor NOTAMs for Doha for operators intending to travel to during the World Cup. These will outline the various requirements and restrictions for each airfield.
Permit considerations
International flights into, from or over the territory of State of Qatar shall be subject to the current Qatar regulations relating to civil aviation. Before a scheduled service is permitted to operate into Qatar, it must be appropriately covered by a bilateral or multilateral agreement with the QCAA. Contact HADID for more information if you are intending a new scheduled service into Qatar.
All non-scheduled flights are subject to prior approval. Non-scheduled flights operating into Qatar should submit the following documents for review and approval by the QCAA at least 72 hours prior to arrival time:
Filled out Request for Landing Clearance form (contact ops@hadid.aero to request official form)
Flight details, including:
Name of the operator
Type of aircraft and registration mark
Date and time of arrival at, and departure from Doha International/Hamad International airports
Place or places of embarkation or disembarkation abroad of passengers and freight
Purpose of flight and number of passengers and/or nature and amount of freight
Name, address and business of charterer, if any
Name and Nationality of Lead Passenger as well as all accompanying passengers
ATS Routes within Qatar FIR
Flight Level
Ground handling confirmation
Slot approval (ground handling confirmation reference number should be included in slot application)
Note: Operators are to ensure that the following certificates shall remain valid and carried on-board at all times:
Air Operator Certificate
Certificate of Registration
Certificate of Airworthiness
Certificate of Insurance
Radio Station License
Noise Certificate
How do I obtain a permit?
Simply contact HADID ops@hadid.aero, and we will be happy to apply for permits on your behalf, ensuring correct documentation.
Permit types available through HADID:
Non-scheduled Overflight Permit
Non-scheduled Landing Permit
Scheduled Airline Overflight Permit (Season Block)
Participating Member Association (PMA) flights (i.e., National teams etc)
Permit lead time
72 hours prior notice.
Permit validity
Permits are valid for +72 hours.
Crew visas
Under the standard operating rules concerning crew visas for Qatar, aircraft crew can enter Qatar and stay for up to 72 hours without a visa. Crew must be in uniform, carry their crew ID and be under the flight's General Declaration (GD). However, we recommend obtaining visas prior to arrival since it is not possible to extend beyond the 72 hours.  Citizens of over 95 countries are eligible to obtain single-entry visas upon arrival – you can check eligibility here: https://www.visitqatar.qa/intl-en/plan-your-trip/visas.
Below are the current requirements for crew visas and COVID-19 requirements, which may be subject to change. Foreign Airlines and Aircraft operators crew members are permitted to enter the State of Qatar for a maximum period of 96 hours provided they are:
Fully vaccinated with approved vaccine by the Ministry of Public Health (MoPH), the crew members must present a valid vaccination certificate in Arabic or English
Valid negative PCR test within 72 hours of arrival
In case the vaccine is conditionally approved by MoPH, the crew members must present a positive serology antibody test upon arrival.
Note: unvaccinated crew members are not allowed to enter the country.
Ground handling services
HADID can arrange all ground handling services on your behalf with the sole ground handling provider, the Qatar Aviation Services Company. Contact our estimate cost centre via cec@hadid.aero for a quotation.
Fuel uplifts
The HADID team is ready to refuel your aircraft, please contact cec@hadid.aero to get the latest fuel price.
Crew accommodation
Qatar's World Cup Accommodation Agency website is the main booking platform. Some alternative options are also available but there is limited information pertaining to crew hotel bookings. Contact HADID for the latest updates and for assistance in crew accommodation.
Ground transport
HADID can arrange any required transportation services through local transport providers. Contact us 24/7 at ops@hadid.aero.  
Additional information
For more information on the 2022 Qatar World Cup see the official website: https://www.fifa.com/worldcup/.
For more information on our range of flight support services: https://hadid.aero/home.  
Contact HADID
You can rely on us to organise all necessary flight permits and flight planning, ground handling, fuel arrangements amongst other operator and passenger services. With over forty years of experience in aviation, we understand exactly what's needed. Our team are constantly updating information and systems so we stay up-to-date with all regulatory developments in the aviation industry and we are proud of our on-going professional relationships with Civil Aviation Authorities worldwide.
If you have questions, requests or if you need further information, please contact: ops@hadid.aero or call us on +971 (0) 4 205 3000.